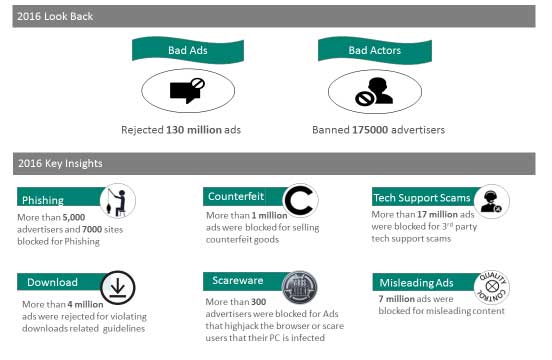 The year 2016 was a big year for Bing in regard to blocking and banning scam advertisers. Last year Bing blocked 17 million tech support scam ads. Not only that, but they rejected 130 million malicious ads in general and banned 175,000 advertisers.
According to Bing, "…the scope, importance, and reach of online advertising continues to grow at a rapid pace. On the flip side, this also attracts plenty of bad actors who misuse the ecosystem for deceptive purposes ranging from malware downloads, phishing attacks, tech scams, counterfeit goods, adult content, scareware popups and many more – by pushing bad ads in front of users. Attacks via ads are becoming more commonplace, and this is an area that needs continuous vigilance."
Bing uses a combination of big data and machine learning to automate the process of identifying bad actors and malicious ads.
Now, if only "fake news" could be eliminated from the Internet, I know a few people who would be a lot happier with this.
References
http://ads.bingads.microsoft.com/en-uk/blog/52754/ad-quality-year-in-review-2016
http://searchengineland.com/bing-bad-ads-report-2016-268839
https://www.onmsft.com/news/here-is-how-bing-ads-fights-against-malicious-advertisements