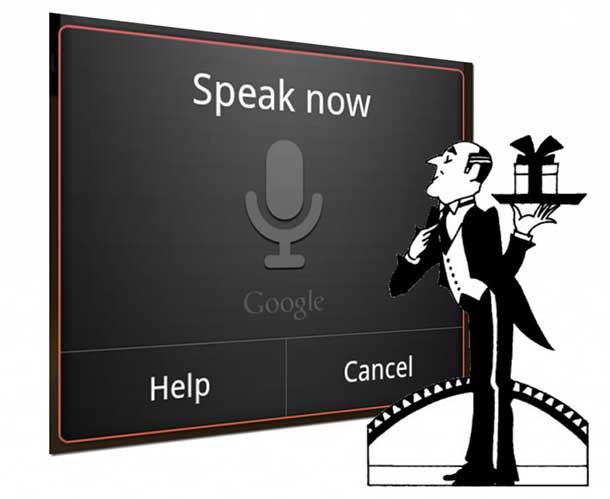 Google recently announced that 20-percent of search queries on their Mobile App or on Android devices are voice searches. The percentage of voice searches has been growing since Apple introduced Siri in 2013. And for the past year, the number of voice searches, in general, has been growing rapidly.
At some point in the future, voice search may actually take over traditional search.
According to SearchEngineLand.com, "Sundar Pichai said during his keynote, 'It's not just enough to give [users] links — we really need to help them get things done in the real world.' Pichai noted that Google has been 'laying the foundation for this for many, many years.' This has led Google to develop an end-to-end solution that means customers never have to open an app or visit a website.
"One example Sundar gave was wanting to get movie tickets for you and your family. He used an example of engaging the Google assistant in a conversation that resulted in Google purchasing four tickets to 'The Jungle Book' and providing the user with a purchase code. Another example was driving in an Android Auto-powered car and asking Google to help you get curry; in this conversation, Google understands somehow that you want take-out and orders your food from an unnamed restaurant, alerting you when it's ready."
And according to Google, "The assistant is conversational—an ongoing two-way dialogue between you and Google that understands your world and helps you get things done. It makes it easy to buy movie tickets while on the go, to find that perfect restaurant for your family to grab a quick bite before the movie starts, and then help you navigate to the theater. It's a Google for you, by you."
What this means is that if you have a Google assistant at home, in the car, or always with you via cell phone your "virtual know-it-all friend" (and in a good way) may help you with everyday life. The days of sitting at a PC and pulling up Firefox and typing text in the search box may be numbered.
What this means for online publishers and SEO's is anyone's guess. For the average consumer, though, this may mean a whole new human-machine paradigm is normalized and mainstreamed and the world will never be the same again.
Resources
http://searchengineland.com/marketers-need-know-google-assistant-google-home-250112
https://googleblog.blogspot.com/2016/05/io-building-next-evolution-of-google.html